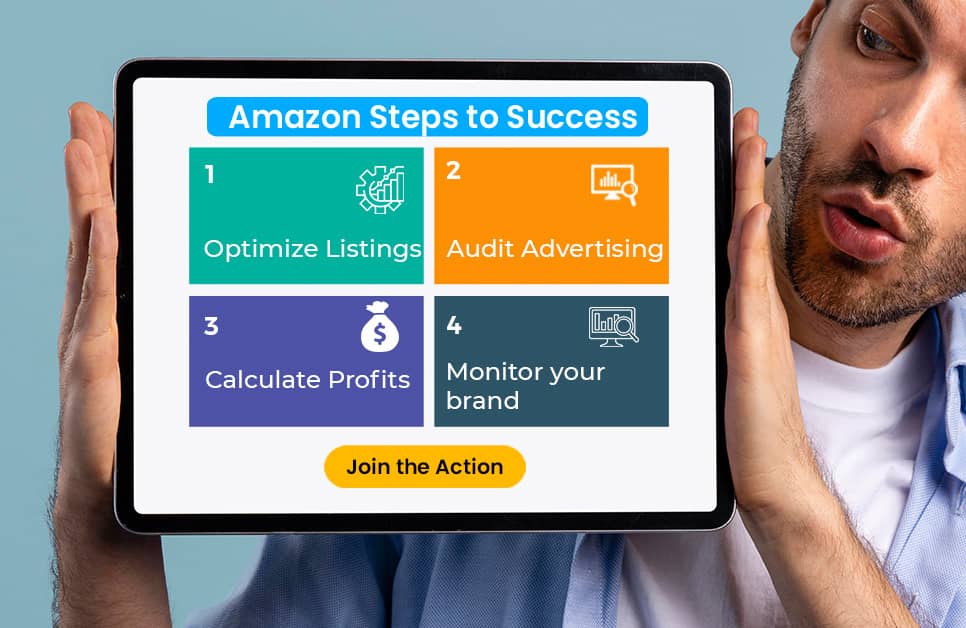 What Do You Need To Be A Successful Amazon Seller?
If you've been thinking about starting your journey as an Amazon seller, you're stepping into a world of incredible opportunities. The realm of e-commerce has expanded exponentially, and Amazon stands at the forefront as a powerhouse for entrepreneurs looking to tap into its vast customer base. But what does it take to be a successful Amazon seller? In this article, we'll guide you through the essential steps and strategies to thrive in this competitive marketplace.
Table of Contents
Understanding the Amazon Ecosystem
Finding Your Niche
Product Sourcing and Inventory Management
Optimizing Product Listings
Mastering Amazon SEO
Winning the Buy Box
Pricing Strategies for Profitability
Managing Customer Reviews and Ratings
Fulfillment Options: FBA vs. FBM
Advertising and Promotions
Monitoring and Analytics
Brand Building and Customer Loyalty
Staying Compliant with Policies
Scaling Your Amazon Business
Adapting to Market Trends and Changes
1. Understanding the Amazon Ecosystem
To succeed as an Amazon seller, it's crucial to comprehend the platform's dynamics, rules, and algorithms. Familiarize yourself with Amazon's terms of service, guidelines, and seller policies.
2. Finding Your Niche
Identify a profitable niche that aligns with your interests and expertise. Conduct thorough market research to uncover gaps and opportunities within your chosen category.
3. Product Sourcing and Inventory Management
Source products from reliable suppliers and ensure effective inventory management to prevent stockouts and overstocking.
4. Optimizing Product Listings
Craft compelling and informative product titles, descriptions, and bullet points. High-quality images and accurate product information are key.
5. Mastering Amazon SEO
Implement relevant keywords in your product listings to enhance visibility in Amazon's search results.
6. Winning the Buy Box
Strive to win the coveted Buy Box by maintaining competitive prices, offering excellent customer service, and meeting performance metrics.
7. Pricing Strategies for Profitability
Set pricing strategies that consider product costs, fees, and desired profit margins while remaining competitive.
8. Managing Customer Reviews and Ratings
Prioritize customer satisfaction and encourage positive reviews. Address negative feedback promptly and professionally.
9. Fulfillment Options: FBA vs. FBM
Choose between Fulfillment by Amazon (FBA) and Fulfillment by Merchant (FBM) based on your business's needs and resources.
10. Advertising and Promotions
Utilize Amazon's advertising tools to promote your products and reach a wider audience. Consider running sponsored ads and lightning deals.
11. Monitoring and Analytics
Regularly monitor your sales performance, traffic sources, and conversion rates. Use data insights to refine your strategies.
12. Brand Building and Customer Loyalty
Build a strong brand identity through consistent branding and exceptional customer service. Foster loyalty by engaging with customers and providing value.
13. Staying Compliant with Policies
Stay updated with Amazon's policies and guidelines to avoid potential account suspensions. Adhere to product and listing requirements.
14. Scaling Your Amazon Business
As your business grows, explore opportunities to expand your product offerings, enter new markets, and explore other e-commerce platforms.
15. Adapting to Market Trends and Changes
E-commerce is dynamic. Stay agile and adaptable to evolving market trends, Amazon algorithm updates, and changes in consumer behavior.
Conclusion
Becoming a successful Amazon seller requires a blend of strategic planning, dedication, and continuous learning. By mastering the intricacies of the Amazon ecosystem, optimizing your product listings, and nurturing customer relationships, you can position yourself for long-term success in the competitive world of e-commerce.
FAQs
1. Can I start selling on Amazon with limited capital? Absolutely! Many sellers begin with a small investment and gradually scale their businesses.
2. How long does it take to see significant sales on Amazon? The timeline varies, but consistent effort and effective strategies can lead to substantial sales over time.
3. Are there restrictions on the types of products I can sell? Yes, Amazon has certain guidelines and restrictions for product categories. Ensure your products comply with their policies.
4. What is Fulfillment by Amazon (FBA)? FBA is a program where Amazon handles storage, shipping, and customer service for your products.
5. How important are customer reviews for my Amazon business? Customer reviews play a significant role in building trust and credibility, impacting your sales and rankings.